HARRISBURG, PA (WSKG) — Dylan Lu, a junior at Cranberry Junior Senior High School in Venango County, was standing in the middle of the busy rotunda, slowly guiding his robot, Hugh, to stack a bunch of plastic blocks.
"Well, I call it 'Humungous' because of the fact that it's way over size parameters," he said, trying to keep the robot from tipping over.
Lu, who said he's also considering a career in chemistry, has been involved in robotics competitions since middle school.
But not all small, rural districts can afford competitive programs.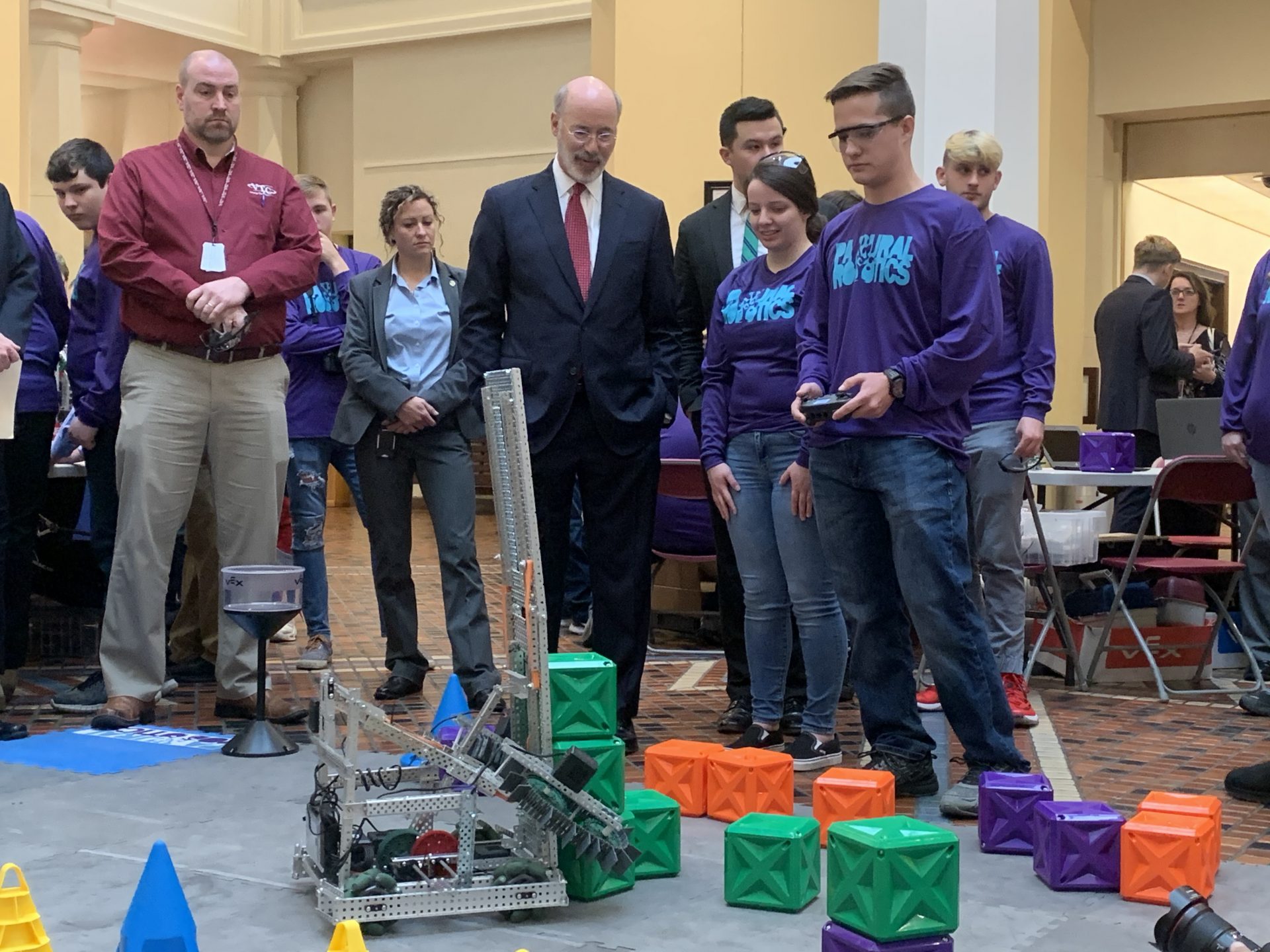 That's where the Rural Robotics Initiative comes in. In this year's state budget, lawmakers earmarked almost $300,000 for the program, to be distributed among 11 school districts.
Sara Sawtelle said it's been crucial for the robotics program at the Forest Area School District, where she works as a science teacher. Even though it's the only district in Forest County, there aren't many students.
"Our class size for our tenth grade is thirteen kids total," she said. "What the grant does is let us compete with much bigger schools."
Governor Tom Wolf, who stopped by to see the robots, said the program is intended to give students skills they can use for tech jobs in changing industries.
"In Pennsylvania, agriculture is, if not the biggest, one of the biggest industries," he said. "I was looking at some of these things, like the drone. [They can look] down at crops, try to find areas where the crops are not growing quite as well…technology has a big role in agriculture."
The state funding for Rural Robotics comes out of a bigger initiative called PA Smart, which the state has been funding for two years in an effort to boost science and tech education.
Last year, lawmakers increased the investment from $30 million annually to $40 million.